Coronavirus: Millions of Americans set to lose key $600 benefit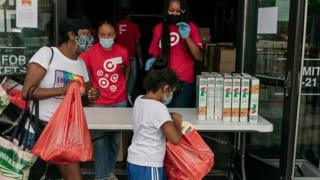 A $600 (£459) jobless benefit paid weekly to tens of millions of unemployed Americans expired overnight after Republicans and Democrats failed to reach a deal on its extension.
Friday was the deadline for an agreement on the coronavirus relief, which tops up state benefits that are mostly far below $600.
Republicans want a smaller relief plan than one passed by the Democrat-controlled House of Representatives.
Talks will continue on Saturday.
Unemployment has soared during the coronavirus pandemic, with 30 million Americans currently collecting jobless benefits.
The US economy shrank at a 32.9% annual rate between April and June – the sharpest decline for decades.
The $600 payments are part of a $2.2tn congressional package adopted in March as coronavirus forced businesses to shut down.
But Congress did not anticipate the current resurgence of the virus, deepening the impact on the economy.
The Covid-19 pandemic has killed at least 152,384 people in the US – the highest death toll in the world.
'An impossible situation'
House Speaker Nancy Pelosi, a Democrat, rejected a Republican proposal to extend the benefits for just a week, pending a full agreement.
White House Chief of Staff Mark Meadows said Democrats had rejected reasonable offers, and "what we're seeing is politics as usual from Democrats".
Many of the unemployed have already received their final $600 top-up.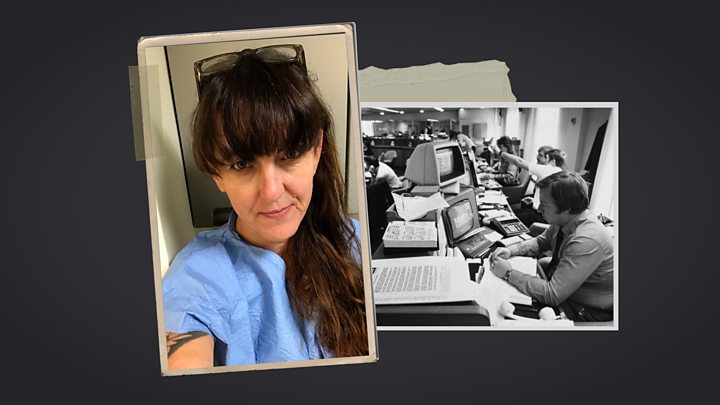 Danielle Grant, a single parent in San Francisco, told CBS that without the $600 relief she would struggle to pay her monthly mortgage and other bills. "I'm already financially strapped. It's an impossible situation," she said.
Her public relations firm for the arts lost business when museums and other venues were forced to close in the pandemic.
Ms Pelosi said Republican leaders "and perhaps the White House do not understand the gravity of the situation".
She said she rejected the one-week extension proposed by President Donald Trump's team because such a move would occur "if you are on a path" toward a deal, and "we're not".
Democrats also rejected a later White House proposal to cut the $600 weekly payment to $400 for the next four months.
Democrats want to maintain the $600 weekly top-up benefit into next year, and are pushing for a new federal stimulus package to help states through the crisis.
President Trump turned to Twitter to attack both Ms Pelosi and the top Democrat in the Senate Chuck Schumer for the impasse.
Coronavirus: Melbourne police 'assaulted and baited' over lockdown rules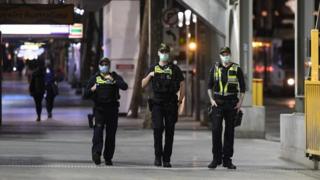 Authorities in the virus-stricken city of Melbourne have warned of a "dangerous" rise in people resisting lockdown measures, sometimes violently.
Police said this trend included so-called "sovereign citizens" being combative with officers in recent days.
In one case a woman repeatedly smashed a policewoman's head into the ground, Chief Commissioner Shane Patton said.
Authorities have increased fines for repeated rule breaches as Melbourne endures a deadly virus second wave.
Over half of Australia's 18,300 cases have been recorded in the past month in Victoria, of which Melbourne is the capital. There have been 226 deaths nationally.
Melbourne has recently mandated wearing masks and tightened a stay-at-home order to reduce transmissions.
But authorities said many people were breaking rules, including some who claimed to be "above the law".
Mr Patton said Victoria Police had seen an "emergence" of "concerning groups of people who classify themselves as 'sovereign citizens'".
The sovereign citizen movement – which has roots in the US – is typically used by those who don't believe in their government's legitimacy, often arguing their rights are being suppressed by public orders.
Mr Patton said the attack on the policewoman "highlights the type of challenges that we're experiencing", adding people were "baiting" police at checkpoints and refusing to disclose basic information.
"On at least four occasions in the last week, we've had to smash the windows of cars and pull people out to provide details," he said.
What rules are people breaking?
"Most Victorians are doing the right thing, no question," said Victoria's Premier Daniel Andrews.
"But we have this continual minority of people who are knowingly – not by mistake, but are knowingly – doing the wrong thing and putting people's lives at risk by doing so."
Random checks by police on 3,000 infected people had found more than 800 were not home isolating, as they were supposed to be.
On Tuesday, the state government increased fines for repeated lockdown breaches from A$1,652 (£900; $1,200) to A$5,000.
Under the current "stage four" lockdown, Melburnians can leave home only to shop, exercise, give essential medical care or do frontline work.
Residents must shop and exercise within 5km (3 miles) of their home, for no longer than one hour at a time.
An additional curfew for between 20:00 and 05:00 was implemented on Sunday. The only exemptions are for work, medical care or care-giving, and workers must have a permit.
Authorities said recent breaches included "Airbnb parties" and people breaking the curfew to get alcohol and fast food.
Mr Patton said the policewoman had been attacked in a shopping centre after stopping a woman for not wearing a mask.
"After a confrontation and being assaulted by that woman, those police officers went to ground and there was a scuffle," he said.
"And during that scuffle, this 38-year-old woman smashed the head of the policewoman several times into a concrete area on the ground."
Since masks became compulsory about two weeks ago, there have been other prominent incidents involving "anti-maskers" and others questioning the legality of lockdown.
Widely shared videos include two women loudly defending not wearing a mask inside a hardware shop, and one woman deceiving police at a state border checkpoint.
Australia had much early success in tackling Covid-19, but the outbreak in Victoria's state capital has pushed the nation to its worst position yet.
Smile more? Some critics see sexism in debate over Biden VP
CHICAGO (AP) — She's too ambitious. She's not apologetic enough. She should smile more.
The debate over Joe Biden's running mate has recently ticked through a familiar list of stereotypes about women in politics as the Democratic presidential candidate and his allies stumble through a search they had hoped would stand out for its inclusion and diversity.
Instead, the vice presidential vetting has resurfaced internal party divisions between the old-guard establishment and a younger generation that's more attuned to gender and racial biases and willing to speak out. Some contend it's just more evidence of why Biden needs a woman on his ticket.
"The fact is that although we've come really far in the last 100 years, we haven't come far enough for women candidates to be treated with the same level of decency as the male candidates are," said Donna Brazile, a former Democratic National Committee chair.
Biden, the presumptive nominee and a former vice president himself, has said he will pick a woman as his number two and he would probably reach a decision this week, though a formal announcement could come later.
The scrutiny of his choices has intensified in recent weeks, while allies have weighed in, sometimes in ways that feed the tensions.
On Monday, Ed Rendell, a former Democratic Party chairman and a Biden ally, was quoted in The Washington Post noting that there has been recent buzz about former National Security Adviser Susan Rice. He observed that Rice was smiling during a TV appearance, "something that she doesn't do all that readily," and that she was "actually somewhat charming."
Rendell, 76, has commented on another candidate's demeanor, too, telling CNN last week that California Sen. Kamala Harris can "rub people the wrong way."
Some see that sort of commentary — docking women for being aggressive and rewarding them for intangibles such as likability — as the sort of bias they say has dogged women in politics for decades.
Rendell said in a phone interview Monday that any suggestions his comment about Rice was sexist were "ludicrous." He said it was a compliment, a description of a good candidate, no different from when people commented on Richard Nixon smiling more on the comeback trail.
"This country is so nuts," he said of criticism of his choice of words, blaming it partly on the media. "We're going crazy."
Politico recently reported that former Connecticut Sen. Chris Dodd, the co-chair of Biden's vetting committee, was concerned that Harris, a former presidential candidate, was not sufficiently regretful about attacking Biden during a primary debate. Others have criticized Harris, who is considered a top prospect, as too ambitious.
Stacey Abrams, the former minority leader of the Georgia House of Representatives and 2018 governor candidate, was similarly criticized for touting her credentials for the V.P. job. She pushed back, saying it would be a disservice to women of color and "women of ambition" to not be forthright.
She said Sunday on MSNBC, "When you do something different, when you meet the standards that are normative for men with a behavior that they don't expect from you, either as a woman or person of color, then you're going to get critiqued."
Rice is African American. Harris's parents are both immigrants, her father from Jamaica, her mother from India.
That some comments and criticism are coming from older, white men with longtime relationships with the 77-year-old, white Biden has been noted.
Glynda Carr, president of Higher Heights for America, a group that aims to help increase Black women's political power, said she believes it's a reaction — conscious or subconscious — from male leaders who "may feel their type of leadership will be hard to maintain" with today's electorate.
Carr compared them, without naming names, to "dinosaurs in extinction." She urged the Biden campaign to wrap the process up soon.
"I do think the longer we go there are diminishing returns because everybody feels they need to chime in," she said.
Comments focusing on gender — as well as the the media's focus on them — are a sore spot for Democrats who fear a repeat of 2016, when they believe presidential nominee Hillary Clinton was defeated in part because of sexist attitudes.
They note that Biden himself is a former vice president — with enough ambition to fuel his third run for the presidency — and say no one would criticize Republican Vice President Mike Pence for eyeing the top job. And they say the conversation about the candidates has been focused on motives, demeanor or personality traits at a level far greater than it would be, or has been, when men are being considered.
Antjuan Seawright, a veteran South Carolina Democratic strategist, says the media are intent on ginning up conflict and finding dirt on rising leaders.
"I hope that this process doesn't devolve into what some are trying to make it out to be — and that's pitting two African American women that are pivotal to this party and this country against each other," he said.
However, lifelong experience with sexism and racism will only help potential running mates make better leaders for a country dealing with a global pandemic, racial injustice and other crises, said the Rev. Barbara Williams-Skinner, one of more than 100 Black clergy who have urged Biden to choose a Black woman as running mate
"It is always harder for women. When you're at that level of power, you have to ready for that fight, and you have to expect it," she said, adding that the scrutiny men face is "much fairer."
"We'd all like to see a day when women are treated more fairly," she said. "We're not in that day."
___
Jaffe reported from Washington, D.C.
Spain's embattled ex-King Juan Carlos to leave country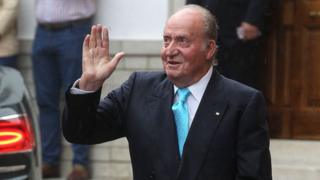 Spain's former King Juan Carlos will leave the country, the royal palace has announced, weeks after he was linked to an inquiry into alleged corruption.
Juan Carlos, 82, made the announcement in a letter to his son, Felipe, to whom he handed power six years ago.
He said he would be available if prosecutors needed to interview him.
In June, Spain's Supreme Court opened an investigation into the alleged involvement of Juan Carlos in a high-speed rail contract in Saudi Arabia.
It was not immediately clear when the former monarch would leave Spain and where he would reside.
It is a humiliating exit for a king who had seemed set to go down in history as the leader who skilfully guided Spain from dictatorship to democracy after the death of General Franco in 1975, BBC Europe correspondent Nick Beake says.
Juan Carlos abdicated in 2014 after nearly 40 years as king following a corruption investigation involving his daughter's husband and a controversial elephant hunting trip the monarch took during Spain's financial crisis.
What did the letter say?
In the letter, the former monarch wrote that he was making the decision "in the face of the public repercussions that certain past events in my private life are generating" and in the hope of allowing his son to carry out his functions as king with "tranquillity".
"Guided by the conviction to best serve the people of Spain, its institutions, and you as king, I inform you of my decision at this time to leave Spain.
"A decision I make with deep emotion but with great serenity," the letter said.
The statement from the Zarzuela palace said that King Felipe VI had conveyed "his heartfelt respect and gratitude" to his father for this decision.
In March, King Felipe VI renounced the inheritance of his father. The royal palace also said at the time that Juan Carlos would stop receiving an annual grant of €194,000 ($228,000; £174,520).
What is the corruption investigation about?
Spain's Supreme Court has said it aims to establish Juan Carlos's connection with the Saudi project after his abdication in June 2014. At that point he lost his immunity from prosecution.
Spanish firms won a €6.7bn (£6bn) deal to build a Mecca-Medina rail link.
The probe involves Swiss banks too.
Spanish anti-corruption officials suspect that the former king kept some undeclared funds in Switzerland, and a Swiss investigation is under way.
The Spanish government has said that "justice is equal for all" and it would "not interfere" in the inquiry.
King Juan Carlos
Born in Rome, Italy, in 1938
Ascends the throne on 22 November 1975, two days after the death of fascist dictator Gen Francisco Franco
Juan Carlos was widely admired for steering Spain to democracy during a difficult period
But towards the end of his 39-year reign he drew growing criticism
Abdicates on 18 June 2014 in favour of his son Felipe